Discussion Starter
·
#1
·
I wanted to try out the paper tuning method to check my nocking point height, and to see if the test would confirm that my arrows are too stiff. I also thought I'd check my family's arrows to see what we can do to get better arrow flight for them.
I have a bag target set up in my garage which lets me shoot at about 6 yards, so I just needed a frame to hold the paper. Didn't have any big picture frames hanging around, so instead we used a folding cardboard box with its top and bottom flaps tucked in and taped out of the way. My garage happens to have a flourescent light fixture hanging about 3' in front of the target, so we just used some string over that to hold up the box. Tying the strings with a couple of double-half hitches let us adjust the height up and down to work for the different heights of the people in the family.
The tail of the arrow clears the paper by just a few inches before the point hits the bag target:
Newspaper sheets fit nicely when taped on diagonally: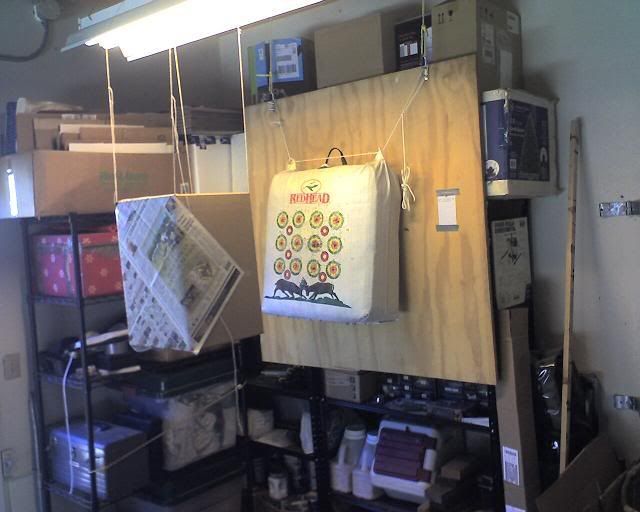 Here's my first three shots, taken from about 2, 4, and 6 yards:
Almost a perfectly horizontal line. So, nice to know the nocking point height is about right, but the arrows are so stiff the only thing to do is replace them.
This was really pretty easy to do, so if you have been thinking about trying it, just do it!
We also tested the arrows for my family, and got one of us tuned up and shooting bullet holes. Now that we have a few months of shooting under our belts, we are ready to get our second batch of arrows and they should have much better spines than we started out with.
One caveat - my wife's arrows read weak, even though we thought they were probably too stiff. However, when changing her nocking point height the response was not as expected. We think her arrows are so stiff for her draw weight and length that they are giving a false reading due to contact problems.
(Another dirt-simple tool we made: we wanted to check the deflection on my eldest's arrows. They are a good match but, like most kid's arrows, no spine was published. We put 2 kitchen chairs with their backs 26" apart, and used a string to hang a milk carton with 2 pints of water (minus 1.5fl oz to account for the weight of the carton) from the middle of the arrow. My eldest's arrows had right about 1" deflection. My wife's had a bit less than .5 in. - pretty stiff for a 25 lb @ 28" recurve and a 26" draw length! We had her test with the 1.000s and got results like we expected to see. (They were a bit weak, but nocking height adjustments behaved sensibly.)
Best regards,
Ron