A bow to shoot field can require some thought. First you have to be able to carry the bow around a course consisting of 28 target. Some of these courses are a walk in the park and some are over hill and dell. The weight depends on what kind of shape you are in. 6+# is heavy. 2# is light. For me 4# is about the upper limit (old geezer)
Draw weight always requires some thought. You will shoot 28x4 arrows at targets 7yds to 80yds distance. You would like to aim, gapping or direct and not holding on a cloud above the target. You may have noticed in Greysides pic that some folks that set up the course have a sadistic side to their personality. They set the 7 yard stacked dot targets at extreme angles. They also like to set distance targets at different elevation from the shooter. Makes gapping a math contest. In the end you need a draw weight and arrow weight and length to get the distances covered. You have to be able to shoot 112 arrows.
Here is a bow I am working on. 28# on my fingers. 3# 15oz. I made it thru 50 targets yesterday with the bow. Still got some work to do on my engine.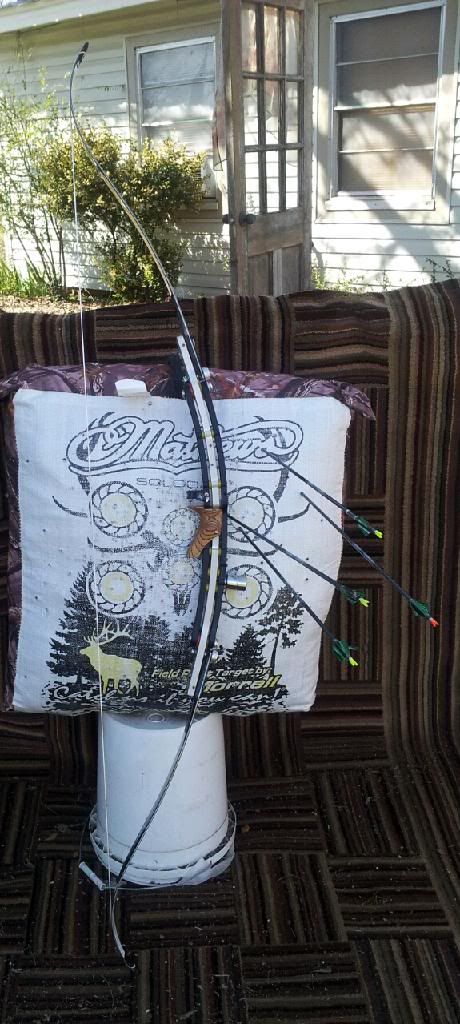 Forty yard group testing arrows. Arrows are a bit weak. I was holding center line.